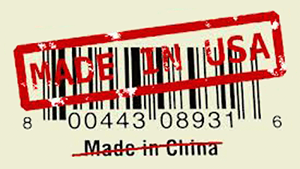 Presentation from Harry Moser
which he presented at the Executive Roundtable Luncheon
With more than 45 years of manufacturing experience – most recently as chairman emeritus of Charmilles Technologies Corporation (now GF Machining Solutions) – Moser is a leading industry spokesman for reshoring and for developing the skilled manufacturing workforce required to make reshoring possible largely due to the success of the Reshoring Initiative, Moser was inducted into the 2010 Industry Week Manufacturing Hall of Fame, received Manufacturing Leadership Council's Industry Advocacy Award in 2014 and was named Quality Magazine's 2012 Quality Professional of the Year. He participated in President Obama's 2012 Insourcing Forum, testified at a Congressional hearing on reshoring and manufacturing, won a 2013 The Economist debate on reshoring and company duty to country and has been featured in numerous publications including The Wall Street Journal, USA Today and Bloomberg Businessweek and interviewed on Fox Business, BBC World and NPR. In an effort to further encourage manufacturing education, Moser sits on the board of The National Institute for Metalworking Skills – an institute providing credentials for the skilled manufacturing workforce. Moser is also the president of the Swiss Machine Tool Society. He received a Bachelors of Science in Mechanical Engineering and a Masters of Science in Engineering at MIT. He also received an MBA from the University of Chicago.
Wednesday, July 1
SABC Invites you to an Executive Roundtable Luncheon
Status Report: Where Does the Renaissance of American Manufacturing Stand Today?
Featuring Mr. Harry Moser – Founder of the Reshoring Initiative and President of the Swiss Machine Tooling Society
11:45 am: Registration
Noon – 2 pm: Lunch and Discussion
Carlucci Rosemont
6111 N. River Road
Rosemont, IL
847.518.0990
Members: $60
Non-members: $75
RSVP before June 26 at events@sabcnow.com